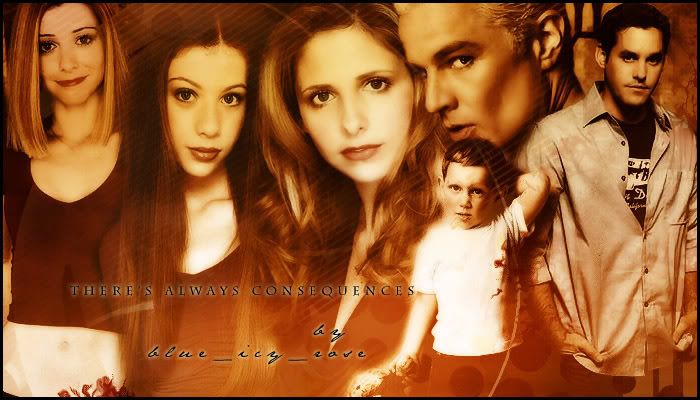 Banner made by
spikeshunny
Previous chapters can be found
here
.
"You're not going to kill him are you?" Dawn asked. "Because then the Powers would have to find a new champion and they'd probably pick you since it'd be sort of funny."
Spike narrowed his eyes at her. "How is that funny?"
"Because you'd have gotten rid of someone that annoys the crap out of you only to take over their job." She grinned and Buffy's lips twitched.
"Spike's gonna kill someone?" Xander interrupted. "How come a bad person's coming here?" It was obvious from the way he said it that Xander believed that for Spike to want to kill someone then they
had
to be bad.
"Spike's not killing anyone," Buffy assured him. "He just doesn't get along with the person coming over."
"Like me and Bobby Perkins? He lives on my street and he's mean. He steals our toys just 'cause he's bigger."
Buffy ran a hand through Xander's hair. "Kind of like that, yeah. Spike and Angel don't get along."
"How come?"
She raised her eyes towards Spike and raised an eyebrow. He nodded and put a hand on Xander's shoulder. "We used to be…friends, sort of. Then he left after some stuff happened and the next time we saw each other we got really mad at each other and fought and we haven't gotten along since." Spike fought the urge to snort. If that wasn't one of the most vague explanations for the way he and Angel acted, he didn't know what was. And judging by the look on Buffy's face, she agreed.
"Oh." Xander frowned. "So he's not bad?"
"No," Dawn said. "Just broody."
Buffy bit her lip to keep from laughing, glancing down, and Spike didn't even bother to stop the laughter that escaped him at that. Leave it to his Nibblet.
"There is something you should know, Xander, and that's that Angel is a vampire too." Buffy watched the way he took in the news and waited for his reaction.
"Really?"
"Really."
"When's he gonna get here?"
"Few hours. Which means, we should probably go get you some actual clothes."
Dawn nodded. "Yeah because as fun as it was to listen to people talk about how cute it was that we let Xander pick his clothes for the day, I don't think we can get away with that for much longer. Besides," she said, grinning, "you can't play at the park in your pajamas."
Xander's eyes widened. "We're going to the park? When?"
"If you go get some clothes now, you might be able to stop for a little bit on your way back," Spike suggested, looking over at Buffy. He dug into his pocket and pulled out some cash and Xander's credit card, which he'd taken out of his wallet earlier in case they went somewhere, and handed them to Buffy. "Here. Use this and don't argue. I know money's tight."
Buffy bit her lip as if considering this and then nodded, glancing down at the credit card. She looked up and raised an eyebrow. "This is…" she trailed off and tilted her head towards Xander.
Spike nodded. "Well yeah. I may have cash but I don't have that much cash. Besides, not like he can say we wasted it or something, right?"
She nodded and smiled slightly when she saw the way Xander was bouncing in his seat and looking up at them.
"Can we go get the clothes now? Can we?"
"Sure, we can." Buffy stood and held out her arms to Xander, who practically leaped into them.
"Bet that's the first time he's been so excited about going shopping," Dawn muttered to Spike who snorted.
"I'm not taking that bet," was all he said. He tilted his head down so that he was looking into Xander's eyes. "No running off in the store, okay? Stick with Buffy and Dawn."
Xander smiled brightly and nodded. "Okay, Spike."
Buffy smirked as they headed for the door. "Big Bad Softie," she said. Spike scowled.
"Oi," was all he got out before Buffy burst out laughing and dashed out the door with Xander in her arms and Dawn not far behind her, giggling as she went. "Soddin' annoying chit," he muttered.
~*~*~*~
"Spike! Spike, we're back!"
Spike blinked and glanced at the clock, realizing that it'd already been a few hours and he stood, turning towards the door just in time to catch Xander as he launched himself in Spike's direction.
"I see that," he said, swinging Xander up.
"We went and got pants and jackets and shoes and stuff and then we got ice cream 'cause Buffy said I'd been so good and then we went to the park and I got to play on the slide and Dawn pushed me on the swing and Buffy spun me on the merry go 'round and then we played in the sand and Buffy said we could go at night sometime so you could come too and—"
"Whoa there, pet, don't forget to breathe," Spike interrupted with a small laugh. "Sounds like you had quite the time."
Xander nodded. "So do you?"
He blinked. "Do I what?"
"Wanna go to the park with us at night? And then you could play too."
Spike glanced from Xander to Buffy and Dawn, who had bags scattered at their feet and back again. His first instinct would normally be to scoff at the very idea of playing at the park. But with the way Xander was looking up at him and the way he'd already acted so far, he figured that it just didn't matter too much if the girls saw him act like this.
Acting like this in front of anyone else who knew him was something else entirely.
He nodded. "Yeah, sure. We'll go at night sometime."
Xander's smile widened. "Will you climb on the jungle gym with me?"
"Sure, I will." Had to make sure he didn't fall, didn't he?
"You forgot to tell Spike what else we got," Dawn said.
Xander's eyes brightened. "We got toys! Buffy got me a light saber and then Dawn got one too so that we could have battles with 'em and I got action figures and we got a couple of games too."
"Yeah? Looks like we're set for awhile then."
"Can we play with the toys later?"
"Maybe. Depends on what Peaches has to say when he gets here."
"Why?"
"Because if he's coming here, that means it's probably a pretty bad demon that we got to fight." And if he waited until after the fight, maybe Xander would have come down from his sugar high by then.
"You gotta go fight a monster?" Xander asked, arms tightening around Spike at the idea. Spike nodded, rubbing a hand down Xander's back as he did so.
"That's what we do, Xander. We fight the monsters so they don't hurt anyone."
"But what if you get hurt?"
"I promise not to get hurt."
"Sometimes people don't keep their promises though."
Spike faltered at that and glanced at Buffy, who stepped forward and put her hand on Xander's shoulder.
"Hey, I promise not to let Spike get hurt, okay? I'm going to be there too."
Xander turned his head to look at Buffy. "You fight monsters too?"
"Every single night," she told him. "And so does Spike and neither of us is hurt, right?" she asked. Xander nodded. "So when Spike says he's not going to get hurt and I say I won't let him get hurt, we mean it."
Xander turned back to Spike. "You really promise?"
Spike nodded, the corners of his mouth tilting up slightly. "I promise."
"Okay."
The sound of someone knocking on the door had Spike making a face, causing Xander and Dawn to giggle and Buffy to roll her eyes.
"Bloody hell, what'd he do, fly here?" he said, lowering Xander until he was standing. He shook his head as he headed for the door and pulled it open, sneering a bit. "Peaches."
"Spike." There was a world of exasperation in Angel's voice when he said it. "Can I come in?"
Spike smirked. "Not my place, I'm afraid. Xander will have to do it." Behind him, he heard Buffy whisper to Xander to say 'Come in, Angel.' Xander must have listened because when Spike stepped back, Angel crossed over the threshold with no problem. He looked around, eyeing the bags of clothes and toys with a frown.
Buffy stepped forward. "Angel," she said, getting his attention. Angel glanced up and a look of surprise flickered over his face.
"Buffy."
"There's someone you need to meet." She stepped to the side and reached back, gently pulling Xander so that he was standing next to her. "Angel, this is Xander. Xander, this is Angel."
As Angel sputtered in shock, gaze locked on the little boy, Xander tilted his head back and stared up at Angel with a look that Spike knew well.
"How come you got a girl's name?"
Feeling:
productive
Soundtrack: Bloodline - Slayer