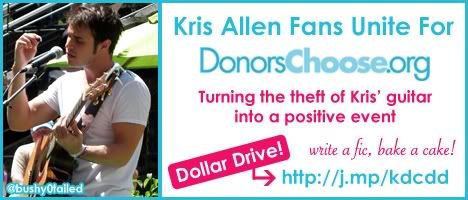 On August 3, 2011, Kris tweeted that his guitar had been stolen out of his car. We believe that we can turn such a negative event into a positive by donating guitars and other musical instruments to kids who will love them as much as Kris loves his guitar (and his viola, and his piano, and his ukelele.....).
Go check out
krisfansunite
if you'd like to make a donation - the money is going to various classrooms/schools to help get musical instruments to classrooms and schools (the quote above is directly from the giving page). The donation drive is doing offers of things like fic, fan made tour guides from Kris's first tour, downloads of his songs, art, etc. in exchange for donations. You can check out the offers
here
.
If you're not in the AI fandom and don't really want any of those things but you think it's a good cause, then I hope you feel free to donate anyway! If that's what you're looking to do, then you can just go straight to
Kris's DonorsChoose Giving Page
.
Feeling:
content