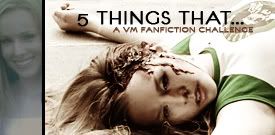 New community with new challenges!
5thingsthat
is a community where you can write fics based off whichever challenge is up for the month. This month, you can write any "Five Things That..." fic. And look at the awesome banners. Come on, join and
you
can use the pretty banners to pimp it as well. That and read/write some great fics!
Well, check it out at the very least if you're interested.